Kystai' the Mad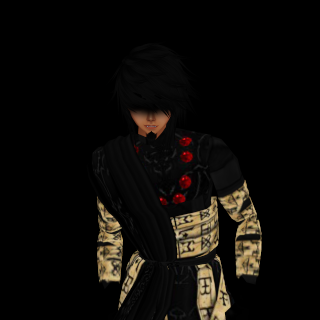 Titles:
That One, Mad, Insane, Not Right
Gender:
Male
Age:
Old
Citadel-nationality:
Obsidian, though he holds no loyalties.
Profession:
He is a gatherer of secrets, an information broker, and perhaps even a spy, if it pleases you. According to himself, he hears all that is whispered and knows all that is secret. It probably isn't true, of course, but you might want to rethink telling your secrets near shadowy corners and in dark empty rooms.
Magus:
The Whispering Spirits, The Voice of Madness
Arcanas:
Major Space Arcana:
Minor Teleportation Arcana, Minor Illusion Arcana.
Major Sky Arcana:
Minor Sound Arcana.
Major End Arcana:
Minor Spirit Whispering Arcana.
Casting:
With a series of blinks and eye movement, he steps into one shadow and out of another. If he wants to be somewhere, he is there. If he does not, he is not. It is difficult to tell whether or not he is going to step into a shadow and vanish midsentence, which he does often, due to the fact that a "permanent" illusionary shadow veils his eyes. To utilize his command of sound, he does nothing more than cup a hand to his ear near a dark corner and listen to the "shadows whisper their secrets", or something rubbish like that. Nobody is ever quite sure what he is doing or why he is doing it.
Rumour:
It is rumored that he visits the Broken Tower from time to time for unknown reasons. It is also rumored that he is completely and irrevocably batshit,  though that is less a rumor and more common knowledge.
Political Standpoint:
What importance do the mortal coils of war and politics hold when the truths of the lemniscata are whispered by the voices within the shadows?